The Staff Senate serves as a bridge between campus staff and leadership to make the University a positive place to work.
About the Staff Senate
The Staff Senate was officially recognized by the University of Arkansas Board of Trustees in 1995 to act as a representative organization for classified and non-classified staff at the Fayetteville campus, and to participate in institutional policy matters affecting staff.
These include matters related to, but not limited to: fringe benefits, University calendars and schedules, compensation, work schedules and working conditions, hiring and dismissal procedures, staff and administrative evaluation, grievance procedures, environment and safety, physical facilities, and health and wellness.
In serving as an advisory and policy-referral body to the administration and to staff, the Staff Senate functions for the welfare of the University and for the staff which it represents.
Follow us on Social Media
Plan to join Staff Senate as we celebrate the close of another successful academic year!
Food, Fun, and Friendship on Wednesday, May 16th starting at 11:30 am in Baum Stadium.
More details to follow soon.
Nominations are solicited and accepted for the University of Arkansas Employee of the Quarter award. Faculty and staff of the UA - Fayetteville campus are encouraged to nominate staff employees in recognition of outstanding service to the University.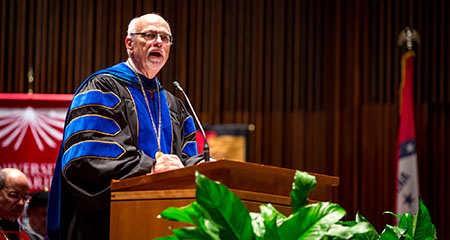 All regularly appointed staff are eligible for nomination. Nominees must have been employed by the U of A for at least one year. You can download a nomination form, or request a nomination form, by contacting Autumn Parker at eoq@uark.edu.